Minamoto Kitchoan's confectionery
It is said that the term "菓子 KASHI" (confectionery) was referred to as " 果子KASHI" (fruit or nuts) in the past. We are making confectioneries with whole fruit in season. Our representative "Natural Series" products are made so the appearance, shape and flavor of the fruit can be enjoyed as it is.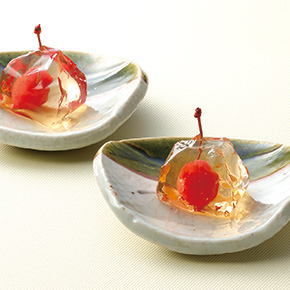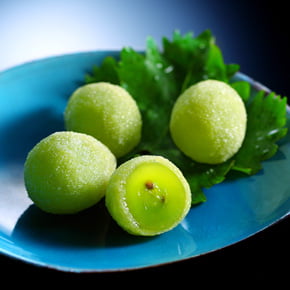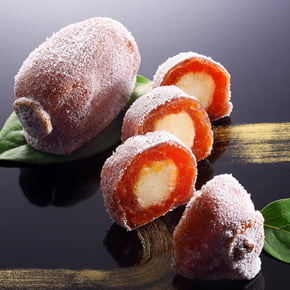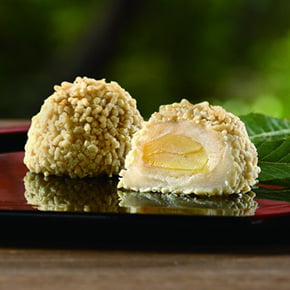 Ingredients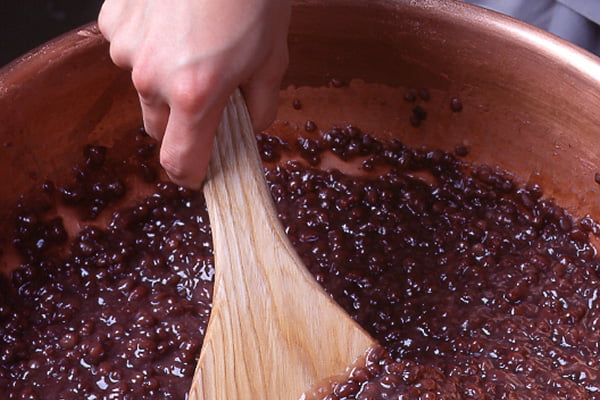 "ANN" bean paste is essential for Japanese confectionery. We are making bean pastes in our own factories. We change how to crush and boil the beans depending on the type of beans so as to bring out of the full flavor of each bean. In addition, we carefully consider which bean paste goes well with which confectionery, and then select the best one. When it's with a fruit we choose a bean paste which can highlight the flavor of that fruit. If a bean paste is the main ingredient, we choose a bean paste of the fullest flavor.
Our farm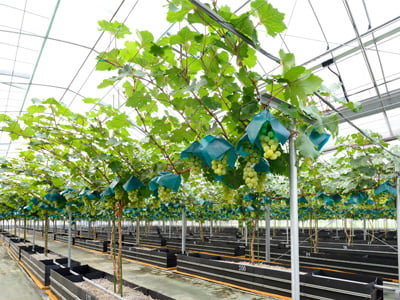 It is also important to select good fruit. We established Minamoto Farm in 2013 to grow Muscat grapes ourselves. We are growing Muscat of Alexandria grape in our farm. The amount harvested is decreasing because many species of grapes have been created these days.
However Muscat of Alexandria grape is essential for our signature product "RIKUNO HOUJU" as it has balanced sweetness, sourness and rich aroma. That is one of the reason why we started growing it by ourselves.
The cultivation of Muscat of Alexandria grape requires experience and knowledge, and there are still many challenges to tackle in this project, however we're happy to say we succeeded to harvesting the first Muscat grapes from our farm in 2015 and now Muscat grapes grown in our own farm are used in RIKUNO HOUJU.
Skill and spirit inherited over generations
Beauty is also what attracts people to Japanese confectionery. We have a team of craftsman working on creation of Japanese confectionery arts. The arts are made from edible ingredients such as sugar, white bean and rice and mostly depict the four seasons or beauty of nature.
It is said that the origin of confectionery arts is from the confectionery offered to women's quarters of Edo castle in Edo era. Since then the confectionery arts are getting more detailed and real.
We hold an exhibition of confectionery arts at our Kitchoan museum. The exhibition is not only for adults but also for children to enjoy and learn about Japanese confectionery. We hope everyone visiting our museum will spend a good time.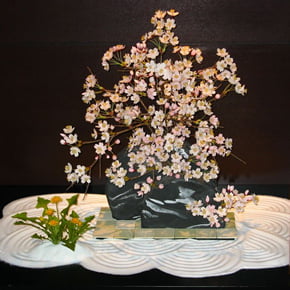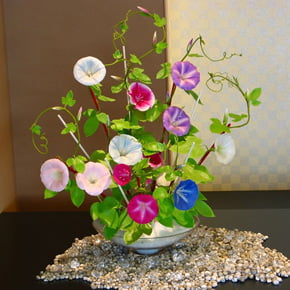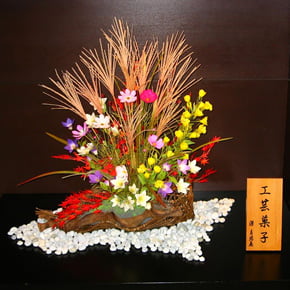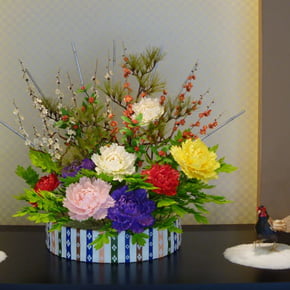 Our stores
Our Ginza flagship store / International stores / Museum